Join us for dance Immersion's 2022 online Versus Dance Battle:
Marcus "O.G" Paris (Toronto) VS Genie Baffoe (Winnipeg)!
Sunday, February 20, 2022 @ 8:00 PM Eastern Time
No registration required. Join the event for free on our YouTube channel.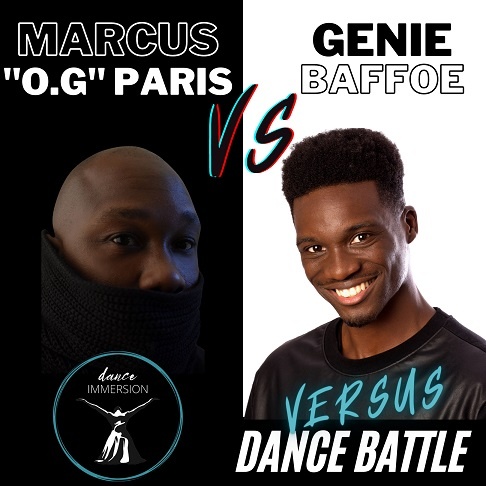 Inspired by the popular music Versuz Battles, dance Immersion has invited Marcus and GeNie to dig into their archives and pull out some of their favourite clips of them dancing to share with us – Hip Hop, Krump, and more! Each artist will battle three video clips in different settings: No winners, no losers, just fun!
Moderated by Nicole Inica Hamilton, with technical production by Amber Downie-Back, the Versus Dance Battle will feature stellar dance clips, commentary from the artists, and an interactive product giveaway!
ABOUT THE ARTISTS:
Marcus "O.G" Paris (He/Him) is a Toronto-bred artist/dancer who involved himself in multiple dance communities such as Hip Hop and Dancehall, but during his teenage years, he discovered Krump. In the 14 years of learning, engaging, and spreading the movement of Krump in the City of Toronto, Marcus became the Co-Founder of "The Jungle" and "Jungle Bros" which is an all-inclusive platform that uses Krump and creative arts as a means for self-care. Marcus has contributed to creating an inclusive, supportive, and caring community for those within it and those who want to learn about it. Marcus hopes to continue to grow and attain the knowledge needed to continue to spread the powerful message of Krump as a self-care practice for youth, teens, and adults.
Eugene "GeNie" Baffoe is a freestyle Hip Hop dancer, choreographer, educator, and filmmaker from Montreal, currently based in Winnipeg. He has been studying Hip Hop Culture for over a decade, teaching, and participating in battles all over the country since 2010. GeNie is the co-creator and director of @ourscenethemovie, a documentary Film on the history of Winnipeg's Hip Hop Dance community. As the Director of B.O.S.S. Dance Team, he has choreographed two Winnipeg Blue bomber CFL halftime shows, three opening sequences for We Day and has a few dance battle wins under his belt. GeNie is a high energy performer and educator dedicated to authentically delivering the culture to his audiences and students through dance and film.
Click the link to our YouTube Channel on February 20, 2022 around 8:00 PM Eastern Time to join this uplifting celebration of dance!