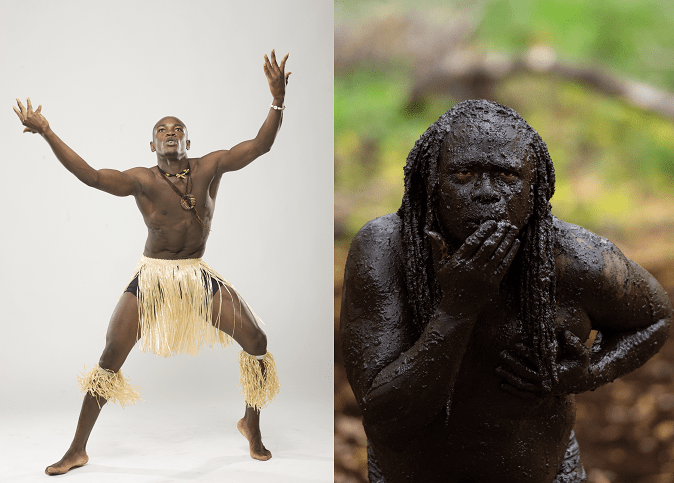 Image: Photo of Pulga Muchochoma by David Hou; Casimiro Nhussi by Mike Sudoma
Over the past year, we have been managing grief, pain, distance, hope, anger, and resurgence in a variety of ways. One African Diasporic method of strengthening and healing ourselves is through connecting to our ancestors.
As we begin dance Immersion's 2021-2022 season of connection, legacy, and hope, we are working with Canadian Stage to bring you a new work by Casimiro Nhussi and Pulga Muchochoma centered around communicating with our ancestors for strength and rejuvenation.
Coming this August 19 – 22, 2021, MUKUTHÔ is a world premiere dance work by Casimiro Nhussi and Pulga Muchochoma that will be presented as part of Canadian Stage Dream in High Park in Toronto.
dance Immersion and Canadian Stage are Curatorial & Presenting Partners for this co-commissioned work
Access: Tickets go on sale beginning Thursday, June 24 at 9:00 am Eastern Time at this link: Mukutho Tickets
ABOUT THE WORK
MUKUTHÔ is a new collaborative dance work by Casimiro Nhussi and Pulga Muchochoma. This world premiere work is based on a Mozambican ritual from the Chuabo tribe that is performed by elders to communicate with ancestors for guidance, forgiveness, and reconnection to the living. This ritual also serves to welcome new family members, connect different generations within families, and as the method of passing knowledge from elders to younger generations through dance, song, and music. Customarily, people will sit around a circle while the elder pours white corn flour into a white fabric on the floor; they then lead a prayer while everyone around the circle answers with a traditional word followed by a double clap. Both Casimiro and Pulga are from Mozambique, and the goals for this work are for the artists to find connections to the ancestors and to reconnect to our past. MUKUTHÔ takes audience members on a journey of experiencing this ritual through a performance of dance, song, and live music.
From the Artists: In African traditions, there is always a belief that we are connected to our ancestors. We believe that our ancestors are the ones that guide us, the ones who pave the path for us to walk through, the ones who turn on the light in the days of darkness, the ones that connect us with Mother Nature and teach us to love one another. Therefore, for Africans, it does not matter what part of the world we are living in, we are always connected and communicating with our ancestors and with Mother Nature. At this moment, we need to communicate with our spirits, our ancestors, and to Mother Nature. At this moment, we need to regain our strength and rejuvenate our souls. At this moment, we need to communicate with whatever we believe so that we can get up and continue with our journey.
ABOUT THE ARTISTS
Casimiro Nhussi is a professional African dancer, choreographer, dance instructor and musician based in Winnipeg. Born in Mozambique, Africa, he has been a dance and music professional since 1982. Starting his career as dancer, Casimiro became the Artistic Director of the Mozambique National Song and Dance Company. Currently, Casimiro is the Artistic Director of Winnipeg's only African contemporary dance company; NAfro Dance Productions. Since coming to Canada in 1997, Casimiro has produced and choreographed over 20 evening-length dance works and is the Artistic Director of Winnipeg's Moving Inspiration Dance Festival. He is a four-time nominee for the Western Canadian Music Awards for his albums "Koko" (2019), "Ximbombo" (2017), "Gweka" (2013) and "Makonde" (2010), and a finalist for the Mozambican Music Award "Ngoma RM 2017". More on Casimiro: www.cnhussi.com
Pulga Muchochoma was born in Quelimane, Mozambique. His dance training and career began in Quelimane with Montes Namuli Dance Company. In August of 2006, he came to Toronto with the company for the International AIDS Conference. After performing in several productions in Toronto and Mozambique, Pulga remained in Toronto to study at The School of Toronto Dance Theatre. He then became a long-serving company dancer with Toronto Dance Theatre. In his time with TDT, he had the pleasure of collaborating with renowned choreographers including Artistic Director Christopher House, Veronica Tennant, Tawiah Ben McCarthy, Patricia Beaty, Thomas Hauert, and more. In 2015, he founded Pulga Dance and African Dance and Fitness with Pulga, and currently choreographs and performs as an independent dance artist. More on Pulga: www.pulgadance.com
Casimiro and Pulga will be joined on stage by musician Kobèna Aquaah-Harrison. Kobèna Aquaa-Harrison is an award-winning producer, multi-instrumentalist, and composer originally from Ghana. He is widely recognized as a performer, producer and creative force in radio, TV, film, dance, and theatre. Through this work, as well as his service as President/Artistic Director of AfroFest, Kobe's has contributed immensely to Canadian culture. His all-star band, Djungle Bouti Orchestra, has featured an astonishing "who's who" in Canadian talent. Traditional African instruments, MIDI-guitars and a digital kitchen sink are his tools as a soloist or when working with Andrew Craig, Zap Mama, Divine Brown, Deborah Cox, Alicia Keys, Bass Is Base, Jackie Richardson, Wunmi and Kelly Lee Evans among others. More on Kobe: www.facebook.com/paapakobe
ACCESS THE PERFORMANCE
MUKUTHÔ will premiere live at the High Park Amphitheatre in Toronto as part of Canadian Stage Dream in High Park August 19 – 22, 2021.
Tickets go on sale beginning Thursday, June 24 at 9:00 am Eastern Time at this link: Mukutho Tickets
We hope you can join us for this beautiful kick-off to our 2021-2022 season!
https://danceimmersion.ca/wp-content/uploads/2021/10/logo-danceImmersion_SMALLpng.png
0
0
Team Dance Immersion
https://danceimmersion.ca/wp-content/uploads/2021/10/logo-danceImmersion_SMALLpng.png
Team Dance Immersion
2021-06-13 16:18:21
2021-08-13 16:34:29
MUKUTHÔ: World Premiere Dance Work by Casimiro Nhussi & Pulga Muchochoma